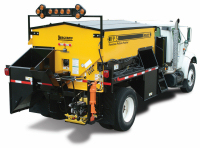 FP5 Flameless Pothole Patcher
Description
Fortbrand Services is the exclusive North American distributor to the aviation industry for the Bergkamp FP5 Flameless Pothole Patcher.
Equipped with state-of-the-art electric heating systems, a hydraulic AC generator to consistently heat asphalt and an outstanding track record, the Bergkamp FP5 Flameless Pothole Patcher fills the needs at any airport.
The 5.1 yard insulated hopper and bin doors maintain uniform heat, prevent wasted material and eliminate areas where mix can harden. Along with aftermarket support you can count on, the Bergkamp FP5 Flameless Pothole Patcher is both cost effective and economical. The simple and easy to use operating system enables operation of the unit proficiently, within only a few hours of delivery.
Bergkamp's thirty five years of expertise in pavement maintenance equipment and dedication to customer support compliments their superior products. Coupled with Fortbrand Services's thirty years of expertise in the aviation industry and history of bringing revolutionary equipment technologies to the airfield maintenance sector, the Bergkamp/Fortbrand partnership will radically change the way airfield asphalt repairs are done in the future.
The American manufactured Bergkamp FP5 Flameless Pothole Patcher provides superior results, with the most cost effective use of human resources possible.
Key Features
SAFETY – The Large working deck provides safe access to the storage tanks and hopper. The breaker and compactor are hydraulically lowered to the ground to prevent back injuries.
FLEXIBILITY – Standard 140-degree material chute can be locked at different height angles and in 15-degree side-to-side increments. The short wheel base optimizes maneuverability on the city streets.
EFFICIENCY – Two-in-one air tack wand cleans the hole, delivers tack evenly and is self- cleaning to reduce clogging. Unit plugs into a 230V outlet during non-working hours to keep material heated and reduce waste.